In 2016, I began offering workshops in my studio, located just outside of Coggeshall and a few miles from Colchester. The converted barn provides a creative and supportive hub where I teach groups of up to twelve. Many of my structured textile workshops are taught across one or two days, but I do provide longer, design oriented textile courses and I mentor several groups on an ongoing basis.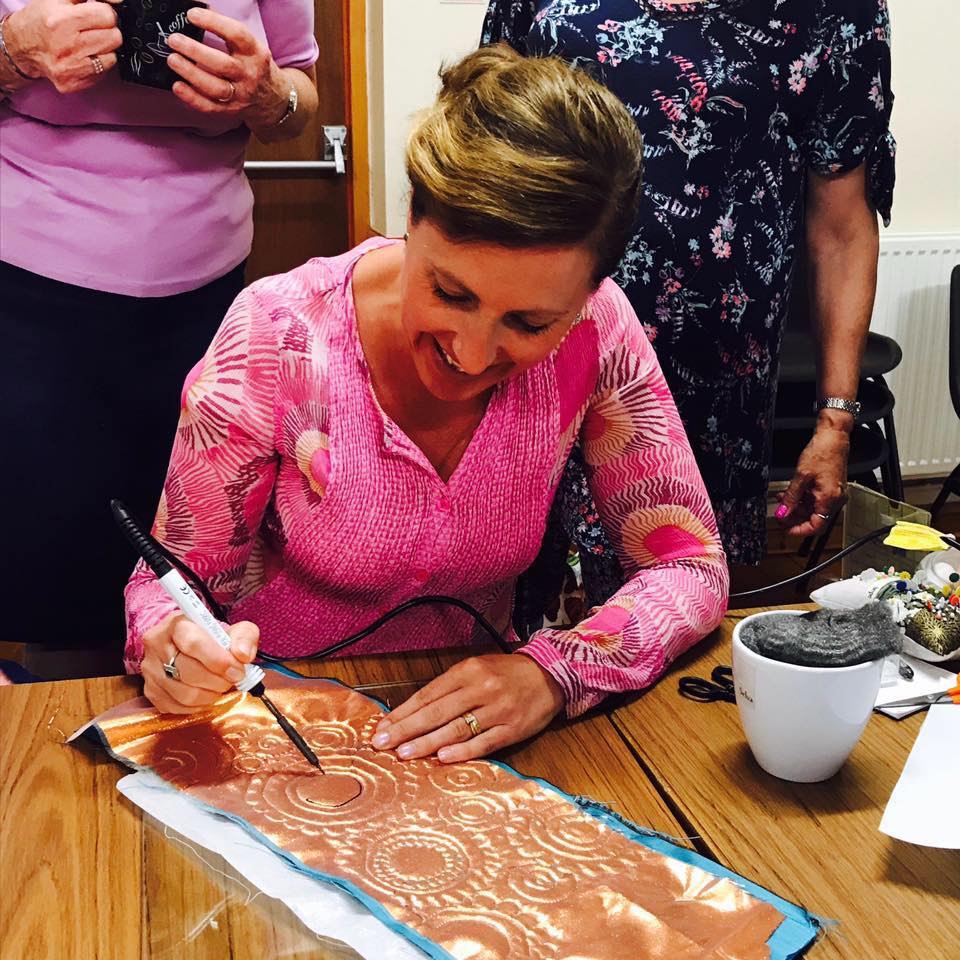 As my background is in creative textiles all the workshops I offer both in the studio and as a visiting tutor involve free motion embroidery with a design approach.  More recently I have begun to take on other textile tutors and I now can offer a much larger range of textile courses including dressmaking, pattern cutting, felting, modern patchwork & Quilting as well as hand embroidery and decorative textiles.  As well as textiles I have expanded the workshop itinerary and now offer illustration, lino printing, fused glass and silver clay jewellery on a regular basis with local, fabulous tutors. I hope that regardless of what experience level you have, you will still find something to suit you. So whether you are a beginner or more advanced in your chosen craft, take a look at the full range of workshops available. If you are unsure as to whether you will be able fully participate in a class, then simply get in touch and I would be happy to advise on what is best for you to do.
While the majority of the workshops available through this site are based at my studio, I do travel and teach regularly in other local venues and I am happy to go further a field. This allows me to reach more students and collaborate with others, which is something I love to do. I offer a range of structured one and two day workshops to beginners through to more experienced in machine embroidery. Do get in touch if you are a Guild or textile group to discuss your groups requirements and I am a happy to send you a list of workshops I offer.
Back to the studio – the current range of workshops will grow over time and I hope to continue offering a wider variety of subjects so if there is something you are interested in but can't see listed, get in touch! If I have something in high demand, I will do what I can to arrange a workshop around this.
My Background
Educated in fine art, I went on to study City and Guilds in Machine Embroidery. I use the sewing machine as a tool, to draw, manipulate and form textural surfaces within and on fabric, creating predominantly artwork, but also luxury accessories for both interiors and for personal use. My work combines applied inks/paint with stitch embellishment and has a strong illustrative narrative, coastal, natural forms and patterns and also floral themes. I have been teaching for over ten years, and love passing on my skills to students and watching them develop into artists themselves.