I thought writing was well overdue – I do apologise for my neglect for this side of things. The last few months have been such a tonic and I have loved seeing the studio in full swing again but it has meant that the admin side has gone slightly adrift in the meantime !
Feature image is by Jan Hughes from this terms Project with Found The Thread Textiles.
Stitchers inc Textile Group are back with 'Another Stitch in The Wall', this time exhibiting with my friend Lorraine George at her Sentinel Gallery in Wivenhoe. If you missed it the first time at the Mill Tye Gallery in Sudbury do come and say Hello – we would love to see you and two of the artists will be stewarding each day so plenty of opportunity to talk about their work. We welcome two new artists Jan Robinson and Pauline Wilson who's hard work and talent will be on show and provides a great addition to the collection of artworks.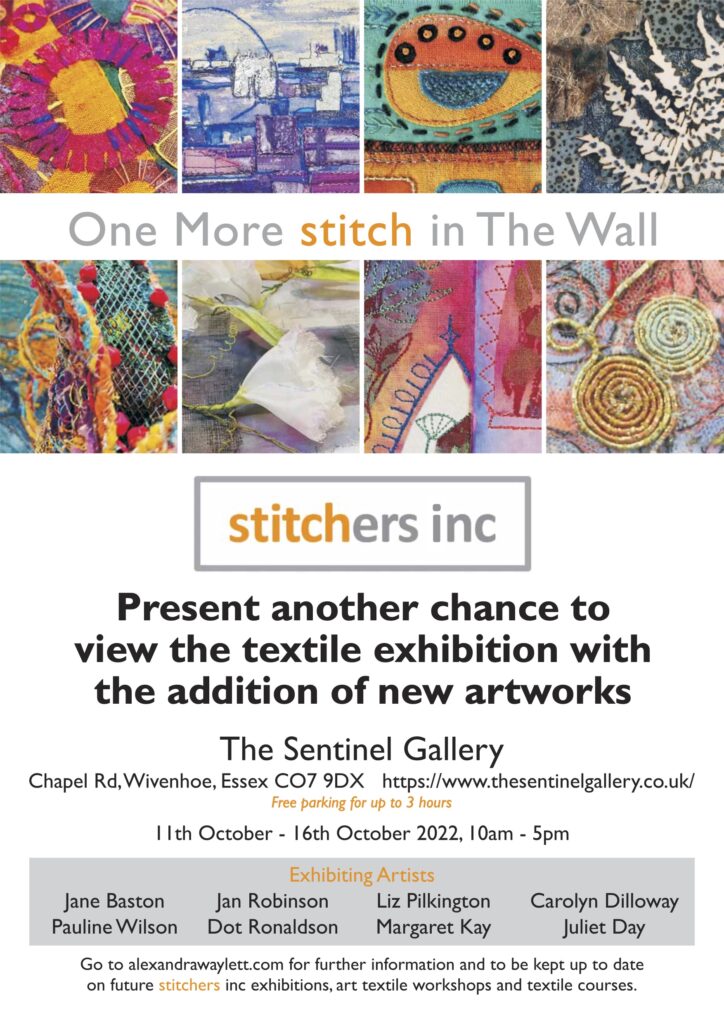 This sizzling Summer has seen the return of Stella Mitchell and her fabulous bags, Anne Kelly, Suzette Smart, Caroline Hyde-Brown, Amarjeet Nandhra, Mel Missin Keating, Janie Pirie, Jenny O'Leary, Dot Ronaldson to name but a few. I am filled with gratitude as these artists and makers choose to come and teach at the studio and we can all develop with them – and each time they come they offer something new and exciting, skills which they give readily and which we benefit from so much and can use in our own textile/art practice. Each of the names above are coming back next year , if not before, with spangling new and exciting workshops – details of which I have listed below.
I also welcomed Nigel Cheney again …and get him – on the front cover of Embroidery Magazine Dec 2021 AND finalist Hand and Lock. Nigel is back next year with his 'The Hare and The Moon' Workshop (still spaces on the second round of dates) and with a new workshop titled 'The Fox and The Owl'. These workshops are a super introduction to textile art but also allow room for the experienced textile student to make their own 'mark'.
Bryony Rose Jennings is back also this time again with her gorgeous Owl Textile Sculptures. She always works so hard ensuring everyone goes home with a fully fledged character of their own. As with all the workshops if you missed out and the page is saying fully booked – get in contact with me as I do run a strict waiting list policy and very often you can get on a workshop that way.
We had the pleasure of welcoming the wonderful Nikki Parmenter to the studio for the first time a couple of weeks ago. An underwater world was the theme – pictures of which are below. I got so excited with all the outcomes that we have arranged for another three day visit next autumn. An eclectic mix of Chameleon's and Birds …and why not?! Details will be published soon but let me know if you would be interested in coming.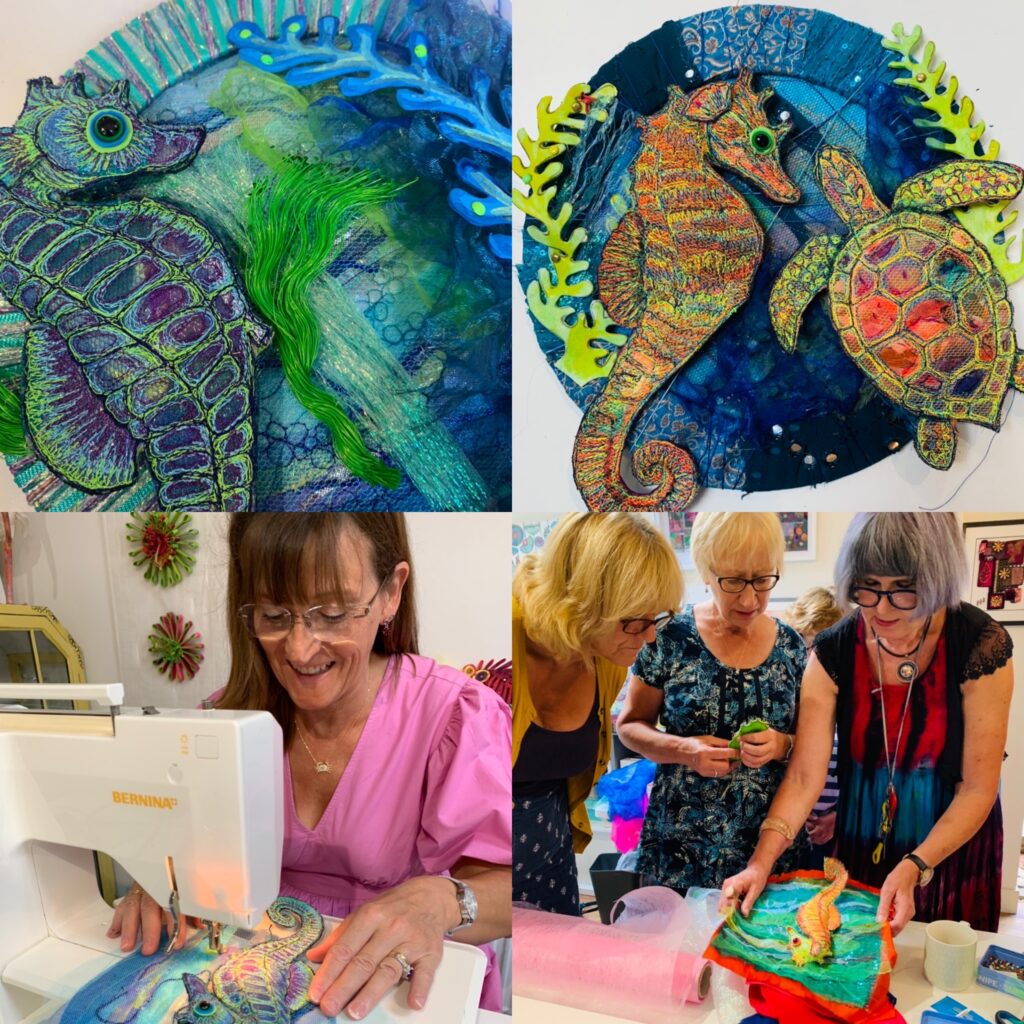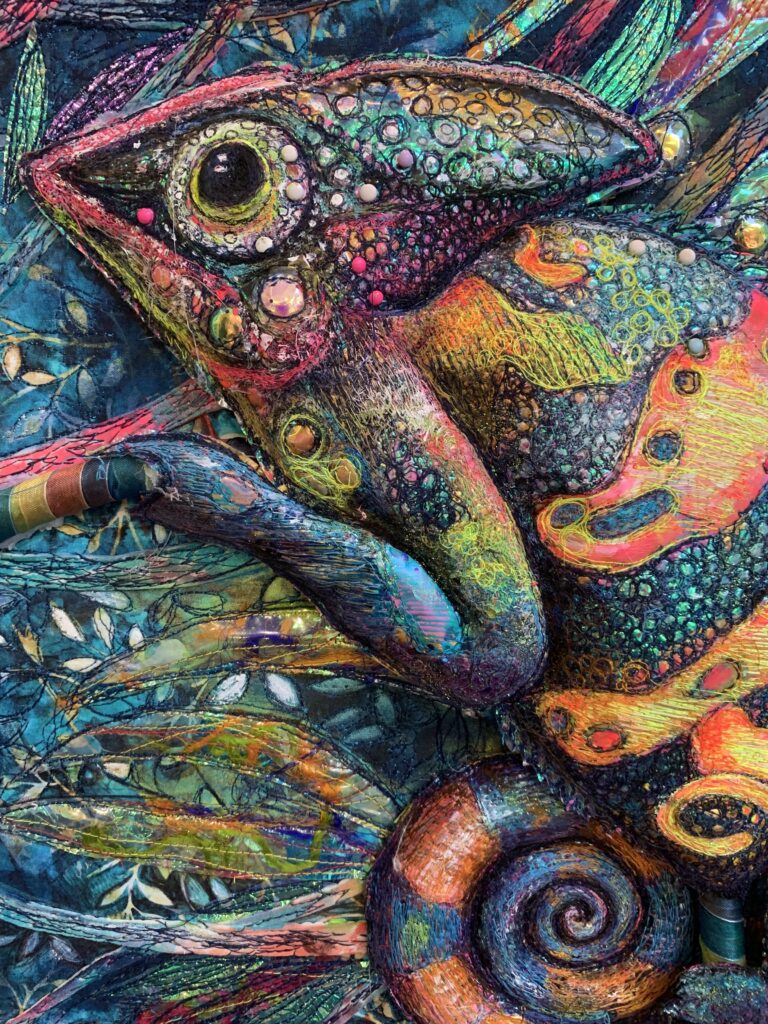 This coming week, heading up the Autumn Term I am delighted to welcome back Suzette Smart. Suzette uses stitch, mixed media and collage to depict a magical world outside her front door. Her work is exquisite, coming always with lots of her own work for us to drool over ! She has devised a new two day machine and hand stitch course for Elm Farm next year and there are still a couple of spaces left in May on both sets of dates:
https://alexandrawaylett.com/product/a-ferret-a-fox-and-a-badger-go-walking-with-suzette-smart-new-2023/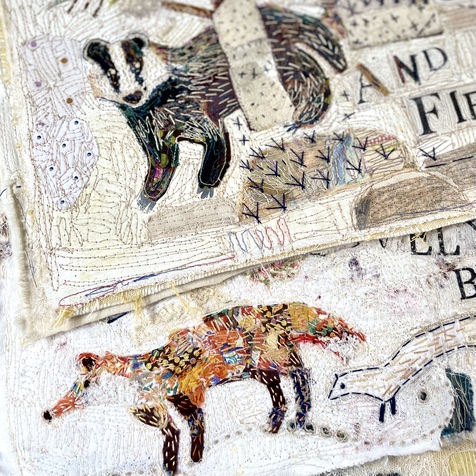 Christmas Workshops 2022:
The fabulous Melanie Keating has given us a new fun workshop for Christmas – suitable for all and a lovely thing to do with a friend in the festive season. All information will be published soon and it falls on the 3rd December. Let me know if you would like to be emailed as soon as finalised.
And if you fancy making some quirky ,colourful and fabulous Christmas Decorations and cards with Dot Ronaldson details are here: https://alexandrawaylett.com/product/a-dottie-christmas-a-hand-embellishment-workshop-new-2022/
On the back of the success of both Melanie's courses this year we have run them again – details of which are here: https://alexandrawaylett.com/product/indian-treasures-with-melanie-missin-keating-new-2023/
and this is the link to her hand stitch 'Little Book of Wishes' Course: https://alexandrawaylett.com/product/a-little-book-of-stitches-with-melanie-missin-keating-new-course-for-2022/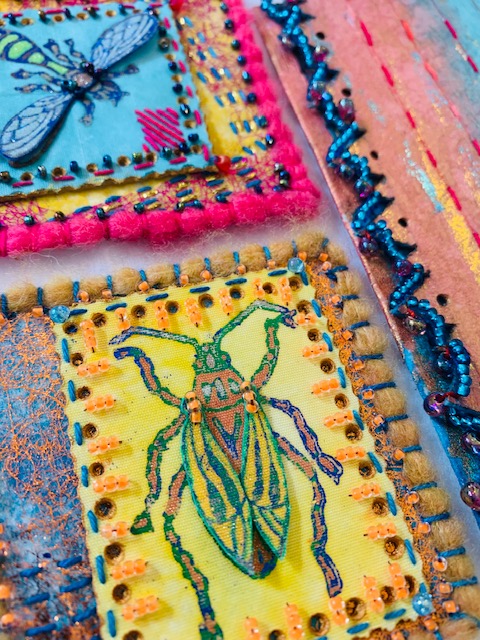 Dressmaking returns to Elm Farm with a New Tutor Jo Baker of 'SewJo'. Jo is kicking off with a one day beginners workshop making these dungarees / or dungaree dress in November 2022 – there are a couple of spaces left! Check this out: https://alexandrawaylett.com/product/dressmaking-with-jo-baker-dungarees-dungaree-dress-new-2022/. This promises to be a great introduction to following a pattern and look out for her next one making a dressing gown and p'js in the Spring.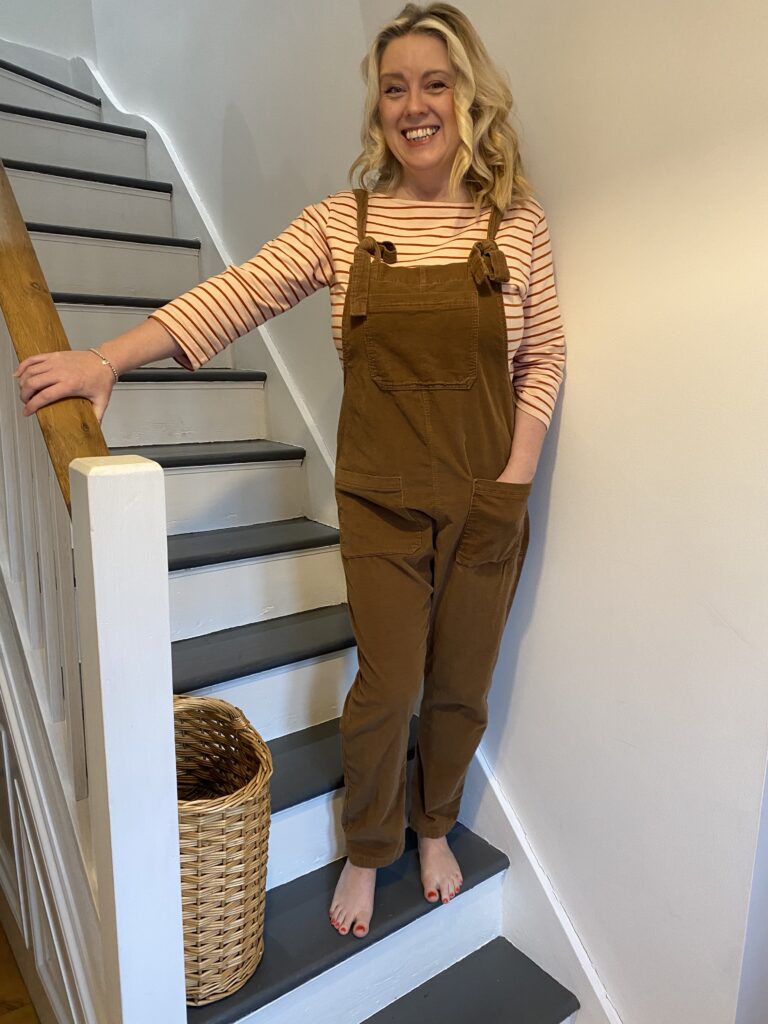 Below are images of some workshops to come in the months ahead: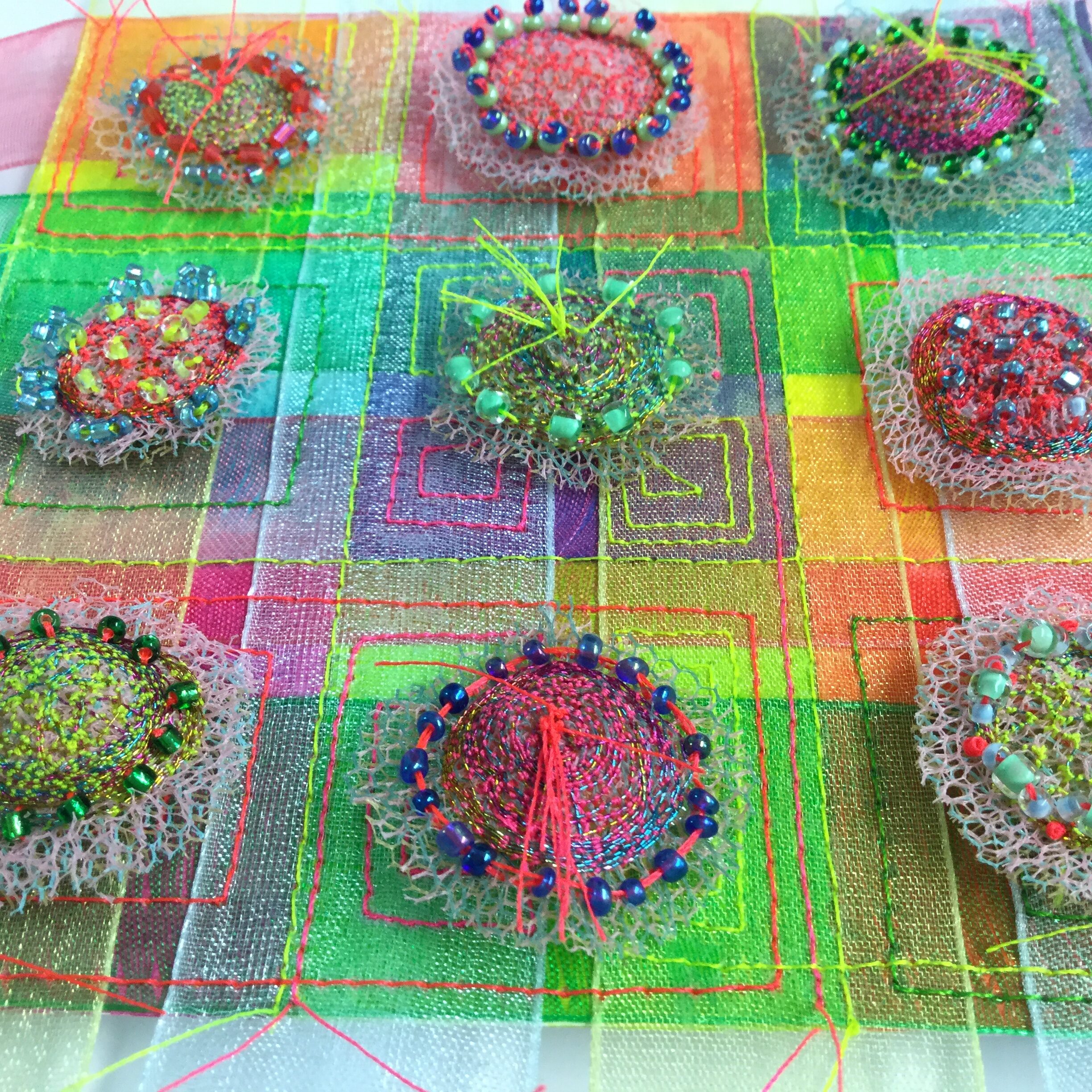 Workshops with availability Oct 2022 – Dec 2022
Below are workshops with current availability. Things do change though – if a workshop is showing 'Fully Booked' email/call as cancellations do occur on the run up to each workshop . A little polite reminder that if you do need to cancel for a refund to do so up to 8 weeks before the date of the workshop. If someone takes your place then a refund will be issued on the day the workshop runs.
And finally I will publish news of new workshops planned for next year in the weeks ahead and will list workshops with spaces in the Spring Term in October.
Tutors and students and clients as always a huge Thank you for your support and friendship – and I can't wait to see you in the coming Autumn and beyond!